Roundup: Creator Talk with Levon Gyulkhasyan
On Sunday, September 20, Levon Gyulkhasyan shared footage, pictures, and stories of making JUMBO LOOP COMICS in his native Armenia and in Angoulême, the home of France's leading comics festival.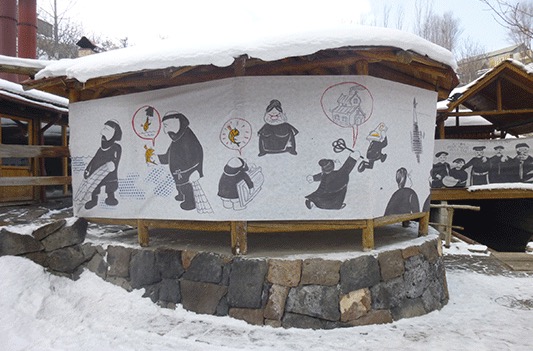 JUMBO LOOP COMICS are, as the name says:
• large—up to 7′ tall and 100′ long (enough for about sixteen square panels).
• looped, so the last panel of the strip brings the reader back to the first.
• comics, with a sequence of words and pictures together.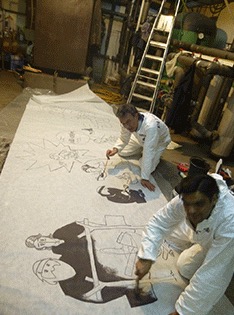 Levon and his colleagues created seven JUMBO LOOP COMICS between 2011 and 2014. Because of their scale, these were group projects, with several artists scripting and sketching a short story, then reproducing that art and lettering at final size on a strip of cloth or other material. In some cases, the public was invited to finish the work by coloring it with paint provided at the site.
In his talk, Levon also discussed the lack of a comics infrastructure in the old Soviet Union compared to countries to the west and east, and how social tensions affect the nature of public art like JUMBO LOOP COMICS. Audience members mused about the possibilities of adapting such projects for Boston. Stay tuned!