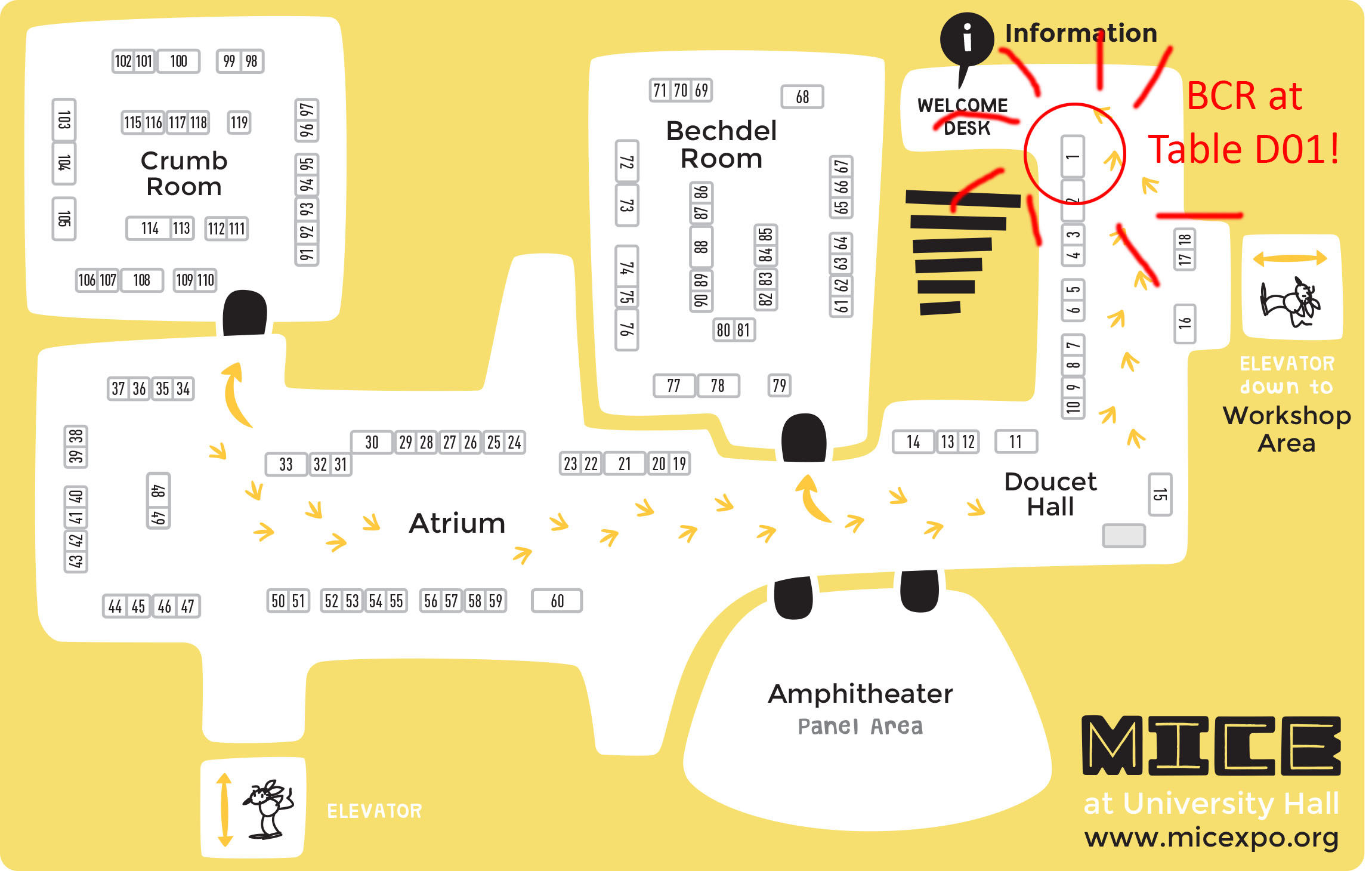 This weekend will be the Massachusetts Independent Comics Expo (MICE), located in Cambridge at University Hall at Lesley University, 1815 Massachusetts Ave (Porter Sq.). The show will be open Saturday 10am – 6pm and Sunday 11am – 5pm. The Boston Comics Roundtable will have a table there at D01. We also have a ton of members debuting lots of awesome material so be sure to check it out!
Debut Comics
Hands: An Anti-Story by Kimball Anderson (A54): Kimball Anderson's experimental new mini from Ink Brick centers on iterative drawings of hands. Each set starts with a life drawing, with subsequent entries using each other for reference. These sequences buzz with subtle flickers and glitches. Paired with stream-of-consciousness text, they're at once beautiful and unsettling.
Spilt Milk by Eric Boeker (D11): You've heard of Cops and Robbers stories, right? What about a Cows and Robbers story? "Spilt Milk" is an all-ages, kid-friendly, full-color adventure romp comic in the spirit of the Keystone Cops.
Super Animals with Hats #5 by Eric Boeker (D11): An all-ages, kid-friendly, little coloring book featuring awesome animals wearing fantastic super-hero hats! Up, Up and Away!
Day of the Ducks by Dan Moynihan (B81): A collection of zany all-ages comics, including some from Nickelodeon Magazine.
Highland Girl by Catalina Rufin (103): Ainsley is a young witch who loves fairies. Sofia is a fairy who is searching for other fairies like herself. They run into each other near Ainsley's home in the Scottish Highlands, and bond over their mutual interest in magic, music, and the feeling of being an outcast.
Unpleasant People #5 by Holly Foltz (D11): After a lengthy delay in new material, the fifth issue of "Unpleasant People" is complete! "Unpleasant People" is the story about the trials and tribulations of a villain, his second-in-command and their long-suffering administrative assistant. This issue contains ninja hijinks, family drama, and some plot thrown in there just for fun!
So, You're Going to Die by Kirk Israel, Art by James Harvey (A47): Knowing that you will die someday can be rough, especially if you're not so sure about there being some kind of afterlife. Still, there are comforting philosophies and thoughts to be had, and "So, You're Going to Die", the skeptical nerd's
comic guide to coping with your own mortality, can help. Illustrated by UK artist James Harvey (Masterplasty, DC's "We Are ROBIN") this work shares ideas proven to help cope with our existential situation.
Puddle Jumpers by Jess Semeraro (D10):3 Dogs, one owner and an animal control officer with a secret- what could possibly go wrong? All ages.
The Nowhere Man #1 by Jon Juniman (C117): The Nowhere Man is the story of Richard, who finds himself lost in The Dreamtime; an afterlife where dreams manifest, and thoughts become reality. Life after death is nothing like he imagined, and Richard must come to terms with a universe that is infinitely stranger than he expected. Probably best for ages 17+.
Good Morning Gorgon by Ben Doane and Olivia Li (D02): Maddie the gorgon is your average single mother, except that her six hissing kids are attached to her head. In Good Morning, Gorgon!, she and her children navigate their everyday life of grocery shopping, freelancing, and professional wrestling (wait, what?).
Jeremy Thomas and the Old House by Neil Johnson (D02): The explorations and adventures of a duck named Jeremy Thomas and a boy named Patrick. All ages.
The Wampa's Tale by Spencer Hawks (C116): A short story detailing the hitherto unknown backstory of one of the Star Wars saga's most misunderstood characters.
Tree Rats! or, The Crepuscular Hobbyhorse: A Farrago by E. J. Barnes (C92): This 29-page short story is inspired by the work of Blaster Al Ackerman and a long list of true incidents improbably mashed together. If you like cranky old constipated men, supercilious neighbors with nasty dogs, road trips with unreliable friends, and backyard rodents, this story is for you.
Infinite Loop by Nick Nazzaro (C107): Space exploration goes awry in unexpected and sudden disaster. Survival is never guaranteed. Basically a marooned tale starring an astronaut. PG-13 for graphic death scenes. No bad language.
Black Fuska Ashcan by Roho and Ben Doane (D01): An adventure comic set in the south of Brazil on the mid-eighties. Ripped from the pages of the Outbound Science Fiction anthology! Cover art by Roho. Teen.
Thirteen by Roho (D01): An existential western comics about rage, life and the origins of consciousness. This is the second title on the "Moody Melodies" Series that started with the minicomic titled "El Oso". Nothing inappropriate for kids but it's geared toward sophisticated grown ups.
Where Is My Head? by Mel Cartagena (C105):It's the brief story of the construction of the android of science fiction author Philip K. Dick, the successful exhibition at a Wired Festival, and the loss of the head by its creator in a connecting flight. Was it really lost, or was it stolen, and by who? An intriguing and entertaining tale for all ages.
Bowery Boys:Our Fathers by Corey Levine, Ian Bertram, and Brent McKee (D10): When his father is framed for murder, immigrant son Nikolaus McGovern rallies together a motley crew of street youths in a rip-roaring coming-of-age adventure based on the period history of antebellum New York City! Set against the backdrop of rampant political corruption, vicious street gangs, nascent labor reform and ardent xenophobia–can Niko and his friends triumph in a life-and-death battle against their oppressors, or will they succumb to the engines of socio-economic progress?
Debut Art/Prints:
Ansis Purins (A49)
Cara Bean (A21)