Superheroes for Boston and Beyond

Our own Dan Mazur is pleased to have written this press release for the new BCR anthology, In a Single Bound.
The Boston Comics Roundtable and Ninth Art Press announce a new anthology comic book:
IN A SINGLE BOUND: Superheroes for Greater Boston and Beyond
First there was Inbound, then Outbound, Hellbound and now… In a Single Bound, the Boston Comics Roundtable's anthology dedicated to superhero stories set in (and around) Boston. Featuring  all-original characters created by local artists and writers, In a Single Bound presents superheroes with an independent comics flavor, but suitable for readers of all ages. True to the eclectic spirit of the Roundtable – a collective of Boston-area cartoonists founded in 2006 – the eight stores in the collection cover a wide range of tones: from satire, to light-hearted adventure, to nostalgic elegy. With masks and capes and the Citgo sign!
The first issue of In a Single Bound will premiere in, of all places, New York, at the MoCCA Festival, on April 6-7.  Presented in the classic comic-book format, at 36 pages with a thrilling cover by Jesse Lonergan, it will retail for $6. The second issue will have a more appropriate debut, a mere two weeks later, at the Boston Comic Con on April 20-21. Copies can be purchased online at www.ninthartpress.com, and at comic book stores around the Boston area.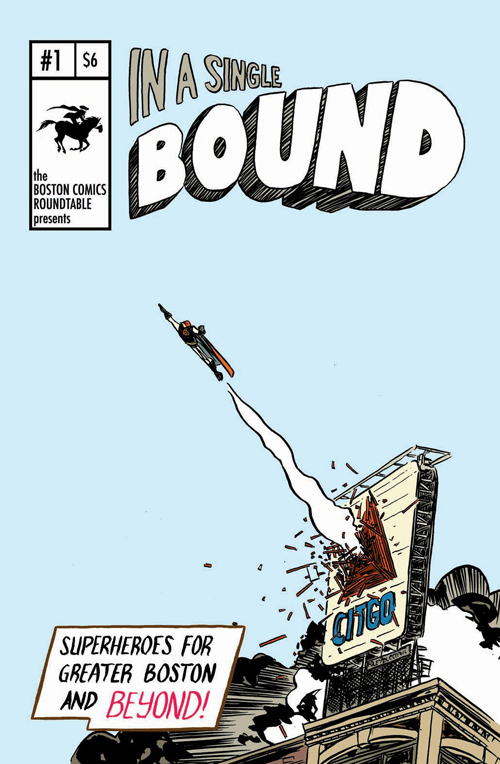 Contributors to In a Single Bound #1:
Lindsay Moore
Donna Martinez
David Ortega
Dan Mazur
Raul Gonzalez
Joey Peters
Lawrence Gillette
J.L. Bell
Geoffrey Halverson
Brian Connolly