"GULP! A Monster Anthology for Kids"
The BCR's Roho, along with many great contributors, is proud to announce their new anthology. We've seen it in person, and it is totally awesome. Read the details below.

The Boston Comics Roundtable, in partnership with River Bird Comics, is pleased to announce the publication of GULP!, an all-ages anthology. GULP! will debuted September 28 at the fourth annual
MICE
(Massachusetts Independent Comics Expo), and be available at select comics shops in the region. The editorial team for GULP! includes the creators of
Heeby Jeeby Comix
and cartoonists on Nickelodeon Magazine, Bob Flynn and Dan Moynihan. This volume was designed and produced by Roho, owner/publisher of River Bird Comics and creator of Hellbound.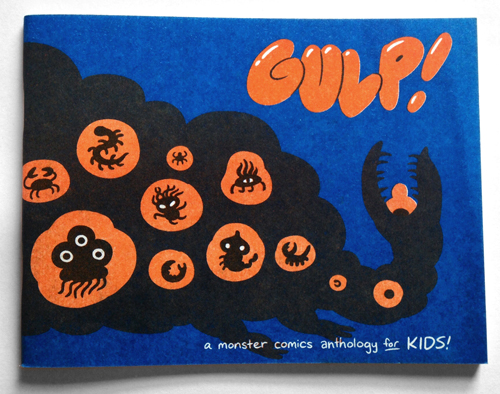 GULP! features eleven funny and spooky stories geared towards children of all ages. Tales are by some of New England's best artists and writers featuring co-editor Dan Moynihan, Rachel Dukes, Owen Heitmann, Clay McCormack, John Lechner, Ansis Purins, Jef Czekaj, Michael Lee Harris, Greg Cook, Eric Boeker with Dirk Tiede, and Hellbound III editor Jerel Dye. Collectively, they have created over a dozen children's books such as A Froggy Fable, The Clever Stick, A Call for a New Alphabet, and Cat Secrets. In addition, their work has appeared in Nickelodeon Magazine, SpongeBob Comics, Candlewick Press, BOOM! Studios, First Second Books, ARGH! Comics, the Boston Children's Museum, FableVision Studios, Walt Disney Television, and Cartoon Network.
The Boston Comics Roundtable's annual Hellbound collections have won the praise of many comics critics. Roz Young at Sequential Tart called Hellbound II "a wonderful set of frighteningly fiendish stories." Brigid Alverson at Robot 6 wrote, "The craftsmanship in this volume is impressive." Jen Vaughn of the Center for Cartoon Studies in Vermont called the collection "perfect for the horror fan." Hellbound II was nominated for a New England Art Award in the category of best book.
GULP! is the fourth book of the Hellbound Horror Anthology Series. This edition features 52 pages of risograph blue and orange art on a stapled 6.5" x 5" landscape comic with a cover designed and drawn by co-editor, Bob Flynn. The price is $15.00 and is a limited edition of 100 copies. For additional information about the first edition and upcoming events go to
http://hellbound.riverbirdcomics.com
for a preview visit 
http://gulp.riverbirdcomics.com